What are Café Style Shutters?
It is not always required that the window opening be from top to bottom. Some rooms need as much lighting as possible, thus requiring the bottom to be left uncovered. However, sometimes passers-by ignore the lower part of the window, and there becomes no need to cover it up. Café Style Shutters is the solution to such scenarios.
Café style are shutters that do not cover the entire height of the window. They are placed at the bottom half of a window and do not go the whole way up like the plantation shutters. Mostly in a three-sided frame, on either side of the shutters and the bottom of your window, these café style shutters are best fit for windows where you would like some additional privacy, without having to cover the entire window.
Because of its name, it's quite misleading to suggest that café style plantation shutters soley are reserved for restaurants and cafes alone. Café Style Shutters bring a range of stylish privacy at eye level along with beautiful elegance to home windows and commercial buildings.
We use tilt rods to open and close slatted shutter panels.
Furthermore, our simple yet stylish, central tilt rods are slender wooden bars attached to the front of the slats.
If you desire a design with a more contemporary look, then go for hidden tilt rods. They are thin, metal mechanisms attached to the back of the shutter panels. Used to neatly connect all the slats in a panel together, so when you move one slat, the others move as well.
Cafe Style Shutters graciously complement traditional window designs, like the sash window, bay window shape, or the stained glass pattern that you opt to cover up. Café Style Shutters give you the bliss to enjoy the shade and sunshine.
Lastly, these half window shutters are really very popular because they are incredibly stylish, as well as practical. You can make colour choices from a number of beautiful shades of white and cream.
When you opt to leave the top of a window exposed to let maximum light in, café style plantation shutters offer the desired privacy. With the possibility of having the height customized, you have the option to cover your windows up to the point of you desire. People who have their homes situated beside pavements, we can ensure that their shutters are placed at eye level to effectively prevent unwanted attention from the outside. Furthermore for those who live in the countryside and love the landscape view around them, they can always look out through the window.
You can always adjust the slats to increase the light emitted in. When you fold the panels open, the framing pave for no evidence of framing to run through your windows. Cafe style remain perfect for street facing communal rooms, they are the ideal to adding some discretion when considering the room. Moreso, we found that some customers don't tend to use Cafe style in bedrooms because the top half of the window is uncovered and allows lot of light coming through.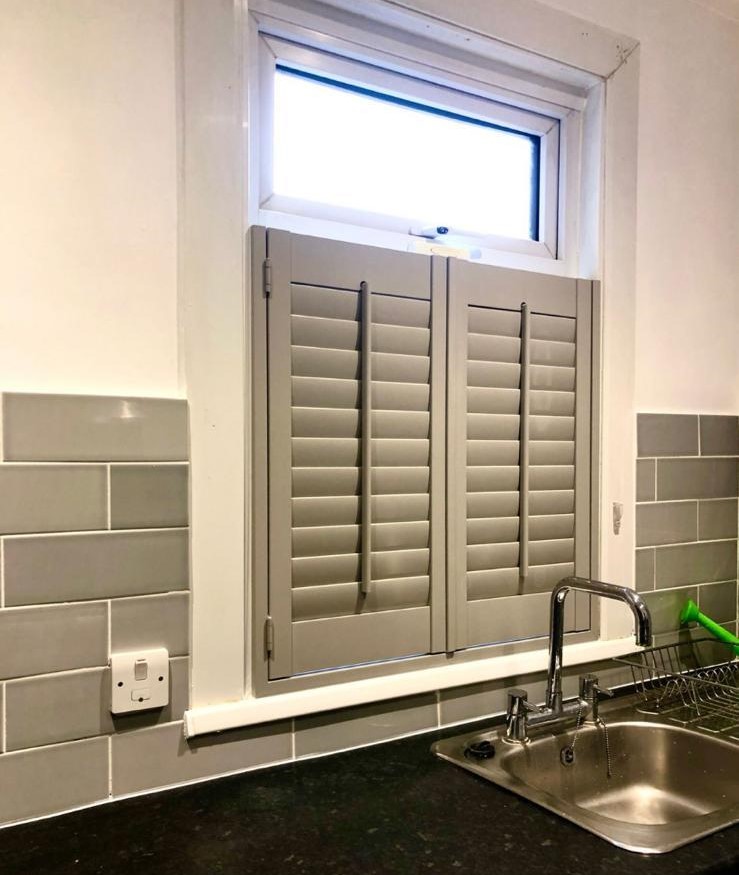 We ensure our cafe style shutters are typically installed to cover the lower half of the window. However, you can desire that we customize and make them higher. With privacy the top priority.
We cannot be beaten on quality and price, guaranteed. Easy installment payment plans available.
(Terms and Conditions apply)
Our cafe style plantation shutters bring style and versatility with their vast architectural styles. These shutters are the perfect addition to your property; modern or period homes. Cafe style plantation shutters usually come in white. However, these can be painted into any colour of choice to match your interior decor.
Easy to Maintain Window Styles
Café style window shutters are not only practical, but are unbelievably easy to maintain. Bearing in mind they only take up half of your window, you can easily reach them quickly and dust along each louvre without struggling to reach and clean the top slats. Therefore, you won't be wrong to say that café style plantation shutters are half the maintenance.
Café style plantation shutters do not only improve the look of your home from the inside but, also add value to your property even from the outside. We ensure our cafe styles are made to measure to ensure they fit perfectly, to create the mind-blowing feeling. It is worthy to know that homes fitted with interior shutters always go with higher asking prices on the market as shutter-covered windows constantly improve the kerb appeal of every property, confidently bringing buyers through the door.
Durable Shutter and Frame
Talking about lifespan, interior shutters outclass every single window coverings available in the market these days. Plantation shutters have the best durability irrespective of the material, the quality of installation, and the usage. Once installed, be rest assured they are a permanent fixture. Cafe shutters are simply built to stand the test of time and the usually negative effects of wear and tear.
Request Quote or More Information