Bifold Door Shutters - The Perfect Shutter For Your Interior
Big windows and doors? We have a solution for you.
Contact
What are Bifold Door Shutters?
Bifold door shutters or sliding shutters or tracked shutters or 'tracking shutters' as they are sometimes called are excellent for big sized windows and doors. These shutters are built with the capability to fold to either side, or both sides. They function effectively with bi-fold doors. This style allows the shutter to slide easily and smoothly along a track, or to a fully closed or open position.
Bifold shutters can either be fully open, closed or angled in between to create a beautiful look. Our bifold sliding shutters are your best bet for big sized doors and windows. We have a variation of louvered, half louvered, half solid panel and full panelled tracked shutters.
For sliding shutters, tracks can easily open completely one their own, irrespective of any door or windows behind them.
Furthermore, using a track system shutter, implies large space areas can be shuttered. Bifold shutters do fold to either side; left/right or both sides in even numbers.
Bifold shutters are the ideal window coverings for large window areas. Tracked shutters are the ultimate shutters when traditional window dressings hassle to fit the window span, or provide adequate light control and privacy options.
Be rest assured we can fit bi-folding shutters to almost any window or door size; like the big patio windows and entrance doors. Despite the design and length limitations in your home, our skilled engineers have you covered on the best track shutter system suitable for your property.
Should your window exceed our full shutter panel width, be rest assured we would provide various options of achieving the designed coverage you want within our specifications limits.
These shutters require a bottom and top track to be pinned to the ceiling and floor allowing the shutter panels to smoothly slide open and shut.
Bi-Folding Tracked Shutters
These shutters fold together as you pull the panels along their tracks. Bi-folding tracked shutters use hinges to attached to multiple panels and look adorable when in place.
Bifold shutters give you two sets of shutter panels and flexibility. With their fold and slide panels, comes a fold back with a completely new look. Provides good privacy during the daytime and still maintains its stylish looks.
These shutters are an absolute fit for your wide windows and doors. Our bifold shutters bring style and versatility through our architectural styles. These shutters are the perfect addition to your property.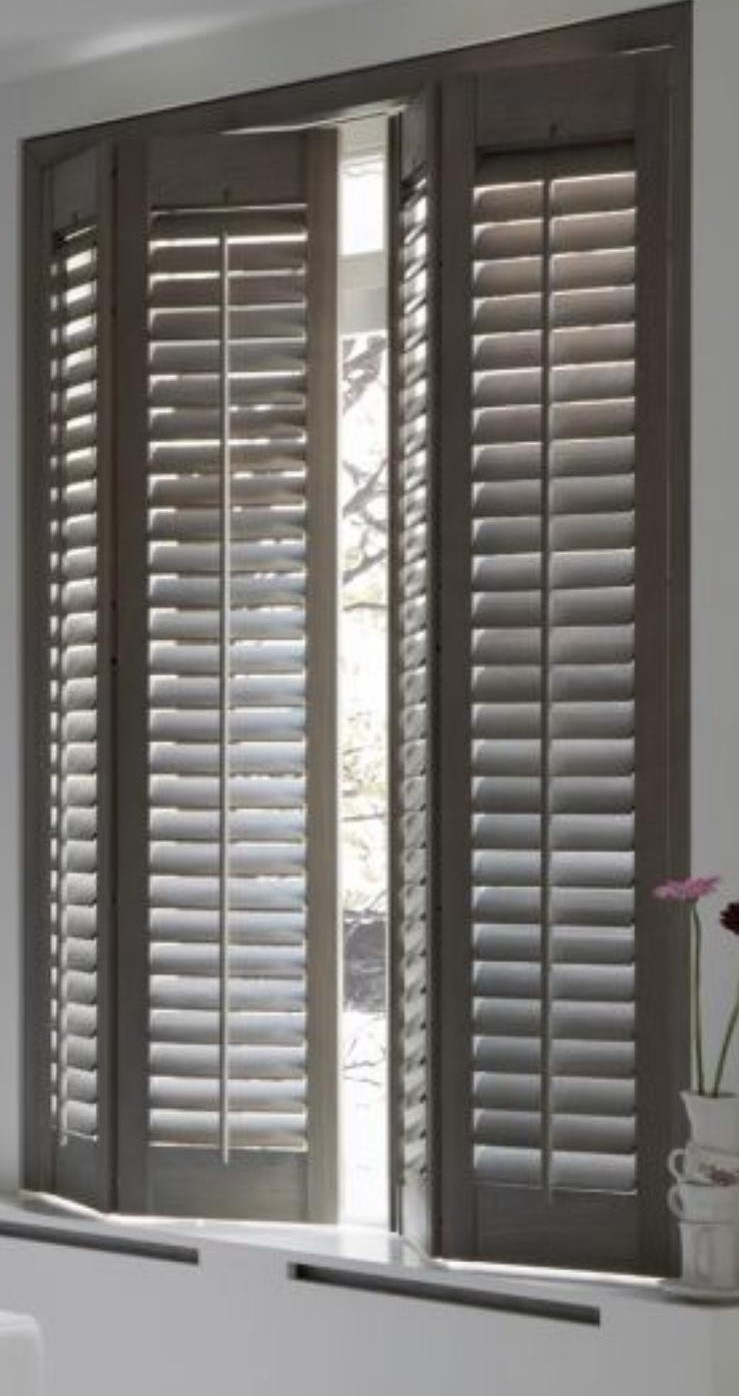 We cannot be beaten on quality and price, guaranteed. Easy installment payment plans available.
(Terms and Conditions apply)
The bifold door shutters can fold or slide open independently along their tracks. Which means that the user can control their privacy and access to natural light.
When a part is shut, people cannot easily look into a property, and thereby reducing home security risk concerns. Tracked shutters like shutters are known for, are also known to prevent burglars from becoming conversant with daily routines of our customers and home owners. Accordingly, tracked shutters make it difficult to tell if owners of a property are in or out.
Maintenance and Durability
The amazing news is that shutters are relatively easy to clean and maintain; whether functional or decorative. To clean, simply wipe down the slats with a damp cloth often, and that is it! They bring a comfortable feel to your home, along with low maintenance requirements.
The lifespan of tracked shutters like other interior shutters, outclass every single window coverings available in the market these days. shutters have the best durability irrespective of the material, the quality of installation, and the usage. Once installed, be rest assured they are a permanent fixture. They are simply built to stand the test of time, and the usually negative effects of wear and tear.
Our shutters offer the extra feel of homeliness, no matter the period of the year. Shutters are a fantastic window apparel for any room; adding class, beauty and value to your property. Our bifold tracked shutters maintain incredible versatility for either a traditional or contemporary design style. They do not only improve the look of your home from the inside but, also add value to your property even from the outside. We ensure our shutters are made to measure, to ensure they fit perfectly, and to create the mind-blowing feeling. It is worthy to know that homes fitted with interior shutters always go with higher asking prices on the market as shutter-covered windows constantly improve the kerb appeal of every property, confidently bringing buyers through the door.
Request Quote or More Information