MDF is an acronym for Medium Density Fibreboard. These are engineered composite wood, manufactured by using wood fibres and binding them together with the use of resin. The processing of MDF includes pressing and drying of the wooden fibres to make them more compact and therefore, possess more stability. Going through such production process makes our MDF board strong with the ability to stand changes in hot and humid temperature. There are two MDF types: Antigua and Bermuda.
Our MDF shutter types are some of our most common. They offer an amazing settlement between quality and affordability. We also have them available in all the most popular shutter styles ranging from: cafe style, tier on tier or full height.
Shutters have always been considered a sign of class and comfortability in a property. They are used to provide complete interior decor to every room that they are installed therein. Over the course of recent years, this reputation has stood the test of time, its appeal and elegant benefits have not changed either.
Plantation shutters are bound to align beautifully with whatever choice of interiors. They are a beautiful sight from within and outside a home. The use of panels and slats, the tilting or opening of each part of the shutter, provides privacy. Furthermore, the tilting of these wooden shutters to desired slant brings control of lighting coming through the room, while still providing a good view to surrounding neighbourhood; homes and street within view.
For home owners who tend to opt for neutral tones for their shutters, this is your best bet. These neutral slates mean that whatever colour the interiors and decorations of the home has, your shutters will be a great fit with our durable shutters, without the need to make further changes. However despite the popularity of this tone of shutter, there are still a range of brighter and more bold colour choices for shutters.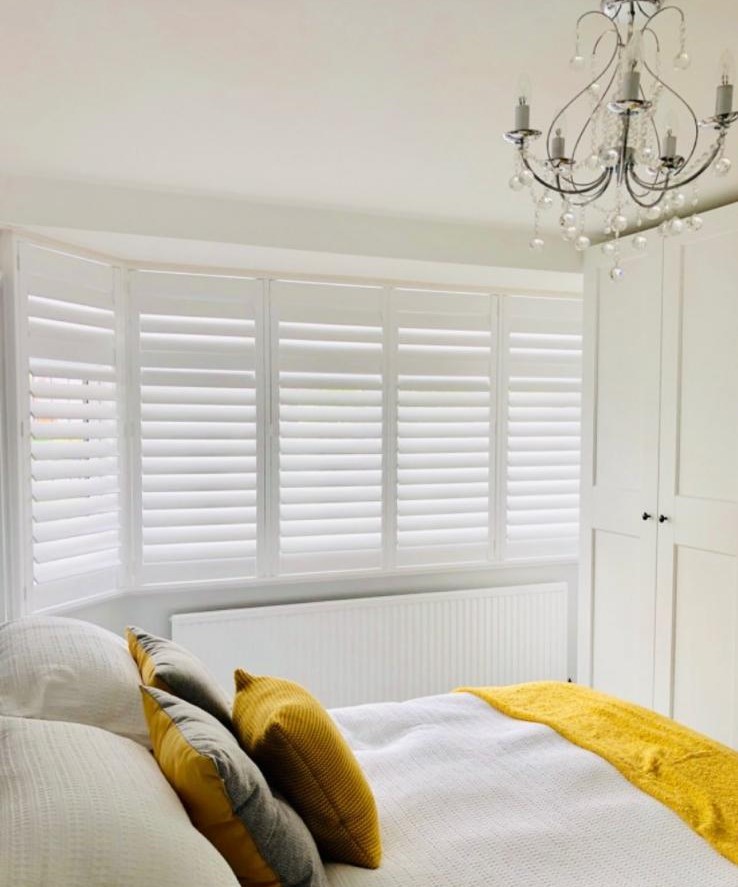 We cannot be beaten on quality and price, guaranteed. Easy installment payment plans available.
(Terms and Conditions apply)
,
The MDF is a cheaper material than actual wood, and therefore cost much less than wooden shutters. However, that does not undermine their quality. If you have a lot of windows in your home, settling for our MDF shutters will automatically mean substantial saving.
Our MDF shutters have a very plain and smooth surface. This is as a result of coating the bare MDF with polypropylene making them extremely durable and easy to maintain. While MDF referred to as shutters, they still do possess a hardwood core which provides strong holding for wooden screws.
These shutters are less prone to dent and surface scratches. The most obvious disadvantage of MDF shutters is their weight. Therefore, they are not advisable for large windows. Also, if perhaps you envisage that your shutters are going to get heavy wear or you intend to open and close your shutters regularly, then they may as well not be the best choice for you.
Our MDF shutters have polymer coating finishing which makes them extremely robust and resistant to damages such as scratches and scrapes. MDF will be of great look for many years with almost no need of constant re-painting. Wood shutters which are always painted and typically last for many years, may subsequently appear to wear sooner than MDF. However, you have the option to re-paint wooden shutters which you are unable to do with MDF shutters.
Furthermore, plastic is known to be tough and durable. Holds its colour for the lifetime of the product, and never needs to be re-painted. They are less expensive. Plastic is mostly less costly than wood. If you are on a budget, then you may want to look at plastic options. Not penetrable by moisture; so if you reside in areas more prone to moisture plastic is best choice to prevent moisture or humidity.
We boast of our skilled wooden shutter fittings. These shutters offer a variation of total flexibility for home owners to control the lighting, as well as serving to control sound and heat insulation. Unlike blinds, plantation shutters are known to act as a natural sound proof. The wood used for our designs adequately acts as an effective shield to noise from outside. Therefore, be rest assured once we have had your shutters installed, you will enjoy the ambiance of a tranquil home and better sleep.
Plantation shutters are not only practical, but are unbelievably easy to maintain. Bearing in mind they only take up half or full covering of your window, you can easily reach them quickly and dust along each louvre. Shutters may need a fresh touch of paint, or coat of paint every ten or fifteen years. To keep your shutters well maintained always endeavor they are free from dust. Wipe through them with mild detergent in water to help keep them clean, new and looking sparkling. Always watch out for signs of excess water near the shutters as it can eventually affect the wood over time.
Window shutters are by design, incredibly versatile. They provide different levels of lighting and privacy that curtains and blinds simply cannot provide. As with shutters, you can have full privacy provided, while still allowing for a good amount of light to be let into your room as panels can swing open independently depending on the shutter type installed.