Wooden shutters are a common range of choice with classy customers looking for the aesthetic appeal for real wood, when they want their property to have a more traditional, or rustic appearance. Wooden shutters offer many quality and durability benefits over other window furnishing options available. Our custom-made finish and fitting services, shutters can be made to fit almost any door, window or alcove and come in low maintenance. Also, these wooden shutters have been a common window dressing for many years now, and are a favourite within London homes, even before their subsequent popularity across the country. This smart and comfortable interior solution offers the perfect combination of nobility and privacy to windows, which gives owners all of the great and amazing benefits offered by shutters, while also having a great viewing covering for their windows and doors.
Contact Streamline Shutters for your wood shutters.
Shutters have always been considered a sign of class and comfortability in a property. They are used to provide complete interior decor to every room that they are installed therein. Over the course of recent years, this reputation has stood the test of time, its appeal and elegant benefits have not changed either.
Plantation shutters are bound to align beautifully with whatever choice of interiors. They are a beautiful sight from within and outside a home. The use of panels and slats, the tilting or opening of each part of the shutter, provides privacy. Furthermore, the tilting of these wooden shutters to desired slant brings control of lighting coming through the room, while still providing a good view to surrounding neighbourhood; homes and street within view.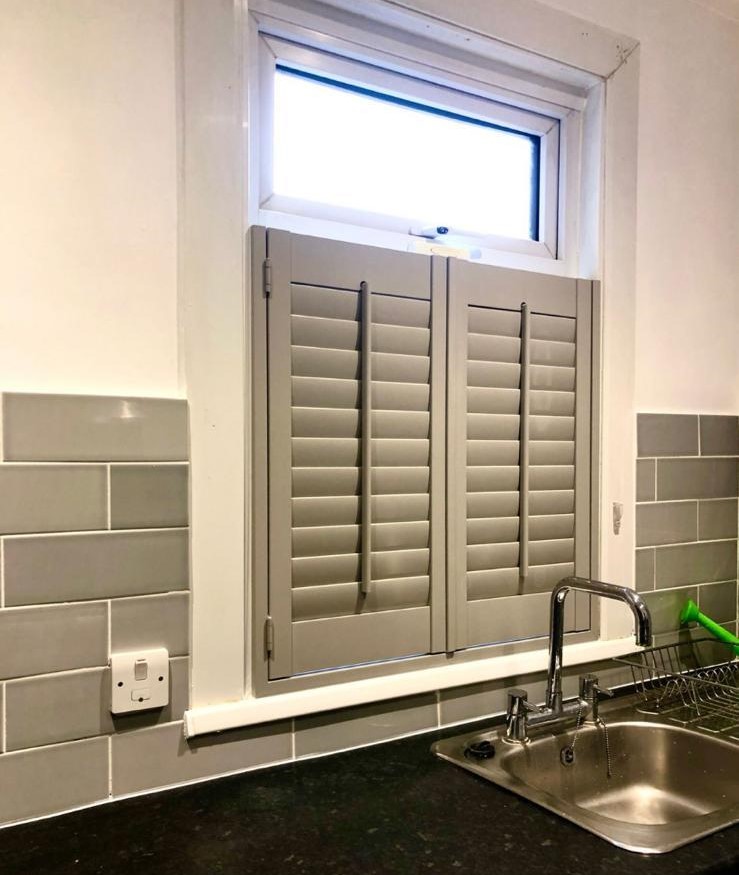 Wooden shutters are a good choice for home owners who tend to opt for neutral tones for their shutters. These neutral slates mean that whatever colour the interiors and decorations of the home has, your shutters will be a great fit with our durable shutters, without the need to make further changes. However despite the popularity of this tone of shutter, there are still a range of brighter and more bold colour choices for shutters.
Wooden plantation shutters are a great way to add value and beauty to your home.
We cannot be beaten on quality and price, guaranteed. Easy installment payment plans available.
(Terms and Conditions apply)
Durable and Easy to Maintain
All our shutters are produced with the highest wood quality, and we have always been unconditionally proud to offer products that never fail, or cut corners in the manufacturing process. Furthermore, top quality wooden shutters such as ours boast of features like the use of mortise and tenon joins in the shutter framing, rather than the cheaper and often easier methods such as finger joints in the areas where the woods meet.
Furthermore, our wooden shutters come with warranty as a standard, so you know that your shutters will be a awesome addition for your homes for many years to come. Our shutters are made from durable and strong hardwood destined to last through the test of time. We give our customers a 5 year guarantee, and you can be assured that you have made the right choice of high quality and long-lasting interior for your home.
Nobody likes going through the stress of having to take down curtains to wash them, or trying to dust venetian blinds every now and then. Therefore, another benefit of having plantation shutters is that they are so easy to clean. To clean, just wipe down the slats with a damp cloth often, and that is it! They bring a comfortable feel to your home, along with low maintenance requirements.
Better air flow and natural light control
Your wood shutters will offer superior light and air control over its competitors. Our traditional wood shutters are more adaptable than say blinds, as they allow light to enter the room as opposed to air, or indeed air to enter and not just light. This makes wood shutters stand out above the rest for sure!. To allow for this to happen and put wood shutters to good use, best to angle the louvers up, this will point the natural daylight into your chosen room. On the opposite and by pointing them down will allow the cool air to flow into the room, without blocking light into the room.
Good Child Safety Attribute
Custom Wood Shutters are without hanging cords that could pose a danger to children, as they could become wrapped and tangled within them, which makes them a much safer option than curtains, and blinds.
Privacy variations and light control in rooms can be adjusted using tilt options. Shutters have also been linked to control temperature within rooms as they can be placed either in front of windows to allow a regulated airflow, or as an extra layer in front of the window in colder months to maintain warmth within the room.
We boast of our skilled wooden shutter fittings. These shutters offer a variation of total flexibility for home owners to control the lighting, as well as serving to control sound and heat insulation. Also, "you simply can't beat a good, rejuvenating sleep." Unlike blinds, plantation shutters are known to act as a natural sound proof. The wood used for our designs adequately acts as an effective shield to noise from outside. Therefore, be rest assured once we have had your shutters installed, you will enjoy the ambiance of a tranquil home and better sleep.
Wood Shutters add a luxurious touch of beauty, elegance, and value to any home or residence. Depending on the style and colour scheme of your internal rooms, you can always guarantee that matching, and installing custom wood shutters on your home windows cannot fail to enhance your property, and improve the value all round.
A good selection and variety
Our wood shutters are available in a wide selection of different designs, shapes and sizes and colours. We can customise them to your exact needs and requirements. They will no doubt add beauty to your property.
Our wooden shutters are very environmentally friendly. They assist the controlling of the room temperature, especially when there is a bit of plantation foliage around the area. This will eliminate and limit the unnecessary usage of electrical power. Wood shutters Installed in large windows or any single windows cut down, and do not let heat escape as much in the winter months, and let in a enough cool air the hot summer periods.