Waterproof ABS shutters also referred to as Java range shutters are an ideal solution for windows directly opposite to, or in wet areas. Bathrooms having showers beside a window, or wet-rooms that are liable to expose shutters to getting wet, are the ideal surrounding for our waterproof shutters. Having a wide range of sizes, colours and designs to select from; our Waterproof ABS shutters are an ideal addition to any home. When compared to traditional window dressings, shutters require little maintenance of occasional wipe down, which is enough to keep them clean. Dirt and durst do not settle on these shutters in the same way it would on fabric curtains or standard blinds. This is also of benefit of our Waterproof ABS shutters, making it perfect for customers that suffer allergies.
ABS material is a type of plastic which some shutter manufacturing companies have started to make use of. ABS is relatively a hard, inflexible plastic but is waterproof and resilient to temperature changes. It is the same material from which many plastic kettles are made. Furthermore, waterproof ABS shutters are made for, but not necessarily restricted to only wet areas. They are perfect fits for kitchens and bathrooms.
Mostly, we suggest our waterproof shutters in bathrooms, kitchens or any other part of the home exposed to high levels of moisture and dampness. Our waterproof ABS shutters are built to withstand frequent use.
Our waterproof shutters come in four amazing paint coating: cream, pure white, signal and traffic white. Be sure to have them match the interiors of your home and give you a classic touch.
Interestingly, it's quite difficult to tell the difference between waterproof shutters and their wooden counterparts. However, be rest assured, you will adore our waterproof shutters!
Actually, they are very affordable shutters selling at around the £168 -170 per square metre. Making them one of the most valued waterproof shutters in the UK market, as well as one of the most highly advanced. However, your main consideration for selecting waterproof shutters though should be for their primary function which is to beautify your windows situated in areas of high humidity.
If you desire to buy shutters for a small, humid room whose window is likely to come into direct contact with water, then our Waterproof ABS shutters are your best bet. They would not fade or warp.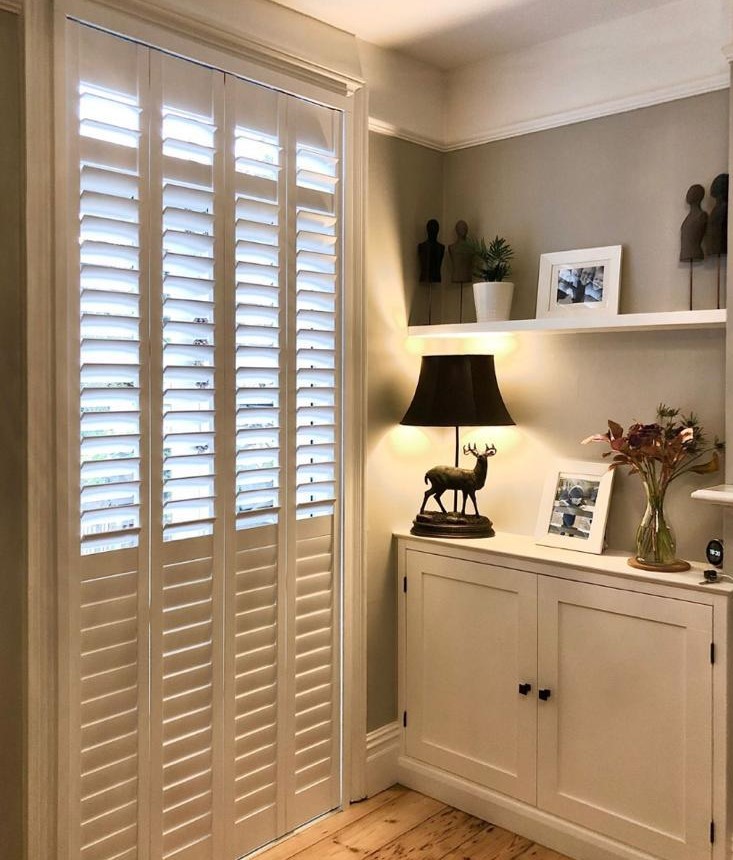 We cannot be beaten on quality and price, guaranteed. Easy installment payment plans available.
(Terms and Conditions apply)
The like other shutters, waterproof ABS shutters will offer you total control over the amount of light that enters your room. Shutters give you room to regulate the distribution of light in your home, much better than curtains and blinds. Another reason you should go for shutters is their availability in different shapes and sizes, that you are sure to find the perfect match for your home.
Waterproof ABS shutters are made of ABS (Acrylonitrile Butadiene Styrene) plastic. These shutters are very tough and durable. Even when exposed to harsh damp environments or humidity, you do not need to worry about them.
When you need something for certain reasons, often you have to adjust on style. Not only do they look amazing, you can as well customize them to suit your window shape; the style you choose and the colour which matches the interior decoration of your home.
One of the main advantage of this waterproof type of shutters is that they are waterproof. Unlike other window decorations, waterproof shutters will retain their beauty and durability despite regular exposure to water and moisture.
Bathrooms are not the only rooms in a home which is exposed to high levels of dampness and humidity. Whenever you cook on the hob, a lot of moisture is generated in the kitchen. Waterproof shutters easily withstand these conditions and you do not have to worry about mould building around your kitchen windows.
Most people prefer to open their kitchen window when they are cooking to prevent smell and smoke from lingering, thereby making the kitchen become too hot in the kitchen. Shutters allow you to get the much desired fresh air in, without compromising your privacy or security.
When things like furniture are exposed to moisture, they become liable developing mould and this is something you might notice on curtains or blinds in your bathroom or humid areas. Waterproof shutters are designed to cope with these wet conditions, plus you can also easily wipe off moisture on them without having to worry about mould.
Using plantation shutters, this can be easily achieved without having to lose all of that natural light you love to have. The blades of the shutters being able to be tilted, provides all of the privacy and peace of comfort you desire ranging from a partial visual barrier, to a total blackout.